ADDING INSTEAD OF SUBTRACTING
Additive manufacturing of components with the help of professional 3D printing
Components for test series, prototypes or parts that are so complex, they can't be milled out of a block of material? When rapid response and adaptation are required, additive manufacturing is THE way to go. Thanks to the state-of-the-art Marforged X7 3D printer in our machine park, you can have us produce demonstration and functional prototypes as well as small and medium series quickly and easily. A CAD model or drawing usually serves as a template for this. Thanks to our experienced 3D technology partners, however, we can also generate the necessary data on the basis of an existing sample component (also see Reverse Engineering). What's so special about this particular printer? The Markforged X7 allows us to produce fiber-reinforced components up to a size of 330 x 270 x 200 mm (LxWxH).
The components are printed from Onyx, a special nylon-micro carbon fiber mix, in combination with a continuous fiber made of carbon, Kevlar® or glass fiber. A fact that allows them to optimally absorb tensile and compressive forces. They become much stiffer and stronger than typical 3D printed components without sacrificing the strength and durability of nylon. Especially since Onyx is also measurably superior to many other printing plastics in terms of surface finish, chemical resistance and heat tolerance.
Threads and bushings made of plastic?
A no-go for the high loads common in industry. The new 3D printer in our EDS machine park therefore embeds finished steel inserts in the desired formats directly into the printed part during the printing process. This ensures that mobile elements such as screws remain as firmly and securely connected to the printed parts during plant construction as they are used to in conventional manufacturing.
You want to know the details? Please look into our downloads:
Additive Fertigung Produktionsinformationen
Additive Fertigung Technische Daten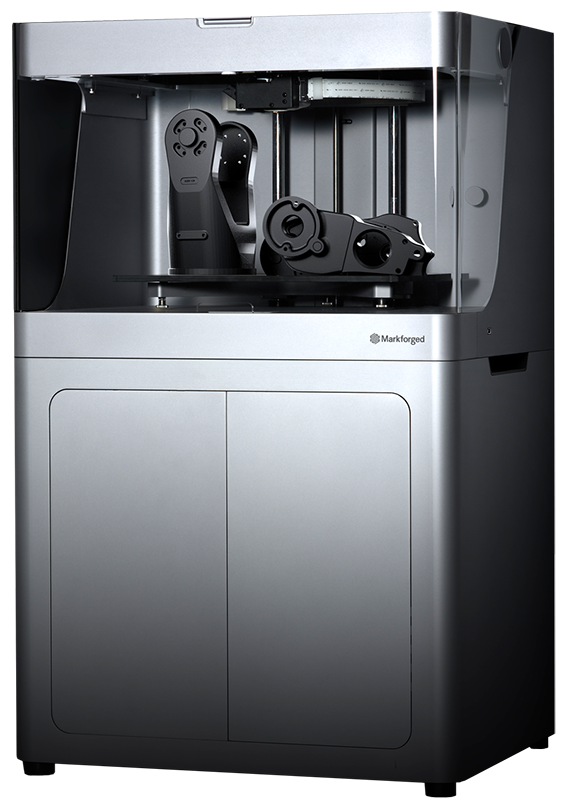 Stronger than aluminum: the MarkX7 is the most powerful 3D printer on the market for industrial-grade, 3D-printed, unsurpassed strength parts made from continuous fiber-reinforced Onyx.
We will help you get on with things
You have questions regarding your possibilities by the use of 3D printing? Or you would like to develop a component matching your specific needs?
Do ask our expert:
Martin Emunds, unter +49 (0) 2462 998800
or use the contact form below.